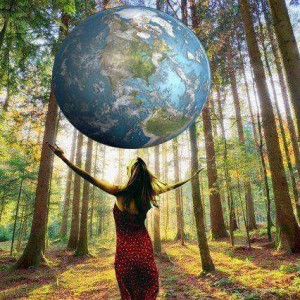 We all know that yoga is very popular and as a result, continues to spread worldwide. In spite of some rough patches, it's popularity is a good thing.
Yoga initiates diverse human populations into an active, integrated state of Mind that will search far and wide, internally and externally, to realize freedom and liberation.
In this way, the ground is laid for monumental, global shifts in society and consciousness.
Ayurveda too, is more recognizable and 'user-friendly' but harder to mainstream. Ayurveda promotes for the most part, simple, daily health and well-being practice, such as proper nutrition and herbal use, that everyone can apply.
Ayurvedic practice overall, as a generalized goal, is in the harmonization of our physical, mind-body with the rhythms of Earth's nature.
Jyotisha, also called Vedic Astrology, is neither mainstream nor popular, at any extreme. Jyotisha challenges us to open our mind to a consciousness, that includes but also extends well beyond the terrestrial, accessing the celestial and galactic. Opening our minds to a vast, galactic consciousness, might be difficult (to say the least) without some preparation.
And so, this is where our yoga and ayurvedic practice is instrumental as ayurveda syncs our physical body with Earth's motion around the Sun (called seasons) and yoga initiates a search within the mind, to Self-realize and live in truth and freedom.
Imagine what will happen when harmonized Earth-Bodies, combined with fully Self-realized, free Minds are combined with incoming Galactic consciousness?!
Imagine…
While Jyotisha does share concepts like houses, constellations and certain planets, with Western astrology, it is very different by calculation,interpretation and application.
It can be hard in the beginning, to shake the newspaper version of astrology when confronted with a system that so deeply integrates health, well-being and life-direction, specifically and in such a sophisticated manner.
Blessings and in Service,
Melanie